The Gospel Church of Durocher Initiative
"Louighins Jean is married to a lovely wife named Quenia Jean Lubin. They have 2 boys named respectively Schadrac and Meschac Louighins Jean. Louighins is the Senior Pastor and the CEO of the Ministry called in French: "La Coopération des Théologiens Évangéliques pour le Développement Intégral de l'Homme" (COTEDIH) or in English "The Cooperation of Evangelical Theologians for the Integral Development of Humans (COTEDIH)" recognized by the Haitian Government. COTEDIH is a humanitarian Christian, relief, and community development organization founded on March 29, 1987, by Louighins 'father. COTEDIH has a council of public interest, whose mission is to contribute to the development of the underprivileged/vulnerable class in Haiti. Les Cayes and Cap-Haitian are currently 2 regions for which COTEDIH needs partners, donors, sponsors, volunteers, and teams of missionaries to evangelize, collaborate, and create support programs and businesses to improve the living conditions of vulnerable Haitian people. COTEDIH's ministry focuses on rebuilding houses for homeless families, rebuilding evangelical Christian churches destroyed by natural disasters, building and repairing schools, distributing food to poor families, supporting farmers, microfinance programs for small traders, health, education, sponsorship for the benefit of orphaned or vulnerable children. It is in this perspective that we invite you today to donate by helping COTEDIH finalize the construction of an annex of the Gospel Church of Durocher which was destroyed during the passage of Hurricane Matthew in October 2016, so that the believers of this locality can find a place to worship God, educate vulnerable children and reach out to lost souls for the Glory of God.
Thank you in advance for your generosity. Please do not forget to pray for Louighins family and the COTEDIH ministry in Haiti. We leave you with this portion of the Holy Scriptures: "Therefore, my Dear Brothers and Sisters, stand firm. Let nothing move you. Always give yourselves fully to the work of the Lord, because you know that your labor in the Lord is not in vain." (1 Corinthians 15:58)
Thank you! We love you very much in the Lord "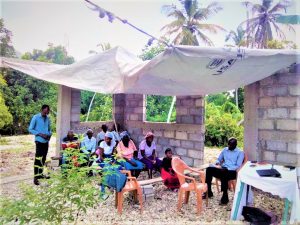 * All Donations are the property of Helping Hands Ministries and to be used at the discretion of Helping Hands Ministries.